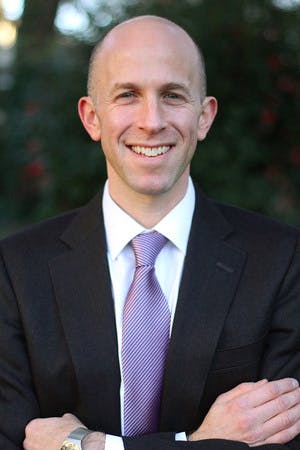 Education
New York University School of Law, J.D., 2002
Wesleyan University, B.A., 1997
Bar & Court Admissions
New York

North Carolina
U.S. District Court, Western District of North Carolina
U.S. District Court, Middle District of North Carolina
U.S. District Court, Eastern District of North Carolina
U.S. Court of Appeals, Fourth Circuit
U.S. Supreme Court
Awards & Honors
Best Lawyers Embargoed Awards
Civil Rights Law
Criminal Defense: General Practice
Criminal Defense: White-Collar
ACLU of Charlotte, Richard L. Hester Civil Liberties Award (2016)
Leader in the Law, North Carolina Lawyers Weekly (2015)
Outstanding Service Award, North Carolina Advocates for Justice (2012)
Order of Service, North Carolina Office of Indigent Defense Services (2010)
AV® Preeminent Rating from Martindale-Hubbell (2014-present)
Best Lawyers in America (2013-present)

Super Lawyers (2014-present)
Business North Carolina's "Legal Elite" (2010, 2015, 2017, 2021)
Root-Tilden-Kern Public Interest Scholar, NYU School of Law
Seminars
Alternatives to Litigation, NAACP LDF: Capital Punishment Conference (2019)
Media & the Movement: Deconstructing Journalism's Role in Race & Inequality, Center for Race, Inequality & the Law, NYU School of Law (2018)
Changing the Conversation to Change Criminal Justice: Activism and Lawyering, Harvard Law School (2018)
Beg Steal or Borrow: Fighting the Death Penalty by Any Ethical Means Necessary, NC Advocates for Justice: Death Penalty Conference (2018)
Changing Legal Lines Across the Decades: Legal Experts on Religion & Politics, Temple Beth El (2016)
How UCC v. Reisinger Brought Marriage Equality to NC, LGBT* in the South Conference (2015)
Bobbitt Inn of Court: Bringing Marriage Equality to North Carolina (2015)
Working with Experts, NACDL: Making the Case for Life (2014)
Organizing Your File to Avoid Execution if Death is Imposed, NACDL: Making the Case for Life (2014)
Finding a Trial Narrative in Challenging Cases, NC Advocates for Justice (2013)
Law Enforcement Misconduct: Real Cases, Real Issues, NC Advocates for Justice (2013)
Using Experts in Your Case: Pre-Indictment to Sentencing, Federal Defender CJA Seminar (2013)
First Amendment Issues: Privacy & Protest, NC Advocates for Justice (2012)
[Re]Active Investigation: How Not to Be a Potted Plant, National Defender Investigator Association (2012)
Mental Health & Jail Diversion, Mecklenburg County Bar (2010)
Advocacy Tested: Drawing Strength from Team Defense in the Hardest of Times, NAACP LDF (2009)
Organizing Chaos Through Technology, NLADA: Life in the Balance (2009)
Saving Brian Nichols: A Team Approach to Capital Defense, NLADA: Life in the Balance (2009)
Ethics: Where Civil Rights, Criminal Defense & Immigration Law Collide, NC Advocates for Justice (2009)
Jake Sussman handles both criminal defense and civil rights matters.
Born and raised in New York City, Jake began his legal career as an investigator. In 2003, following a federal clerkship, Jake moved to North Carolina and joined the pioneering civil rights law firm Ferguson Stein Chambers Gresham & Sumter. He then practiced with Tin Fulton Walker & Owen from 2011 to 2017.
In 2017, Jake stepped away from his day-to-day practice to help launch what became known as The Justice Collaborative, a non-profit project that provided legal, policy, communications, and networking support to advocates, organizations, and elected officials seeking to reform the criminal legal system. In that capacity, Jake played a key role in the creation of several different projects, platforms, and influential reports, including 21 Principles for the 21st Century Prosecutor.
Jake rejoined the firm in 2021 in an "of counsel" capacity, and continues to work on a range of criminal and civil rights matters, while also continuing to advise elected officials, candidates, and organizations on criminal legal system reforms, public safety issues, and crisis communications.
Jake's clients and cases span a wide spectrum. He represents political protesters and elected officials. He files lawsuits against law enforcement agencies for wrongful death, excessive force, and malicious prosecution. He advises other lawyers on ethics matters and litigation strategy. Jake also maintains an active caseload representing people facing the death penalty, both at trial and in post-conviction, and represents people sentenced to excessively harsh punishments as children.
Some of Jake's cases have included:
One of the lead lawyers in General Synod of the United Church of Christ v. Reisinger, which successfully struck down North Carolina's Amendment One, which had prohibited marriage equality. In recognition for his role in the ground-breaking litigation, Jake was recognized by The Charlotte Observer as someone who "make[s] this region a better place to live."

Secured the release of a young woman

sentenced to life imprisonment as a 15-year-old

after she and her mother were convicted in a murder-for-hire of the client's abusive step-father.

Secured the release of a

young man

sentenced to life imprisonment without parole as a 14-year-old

.

Represented an attorney who was federally prosecuted for multiple counts of obstruction of justice. The case ultimately resulted in the voluntary dismissal of all charges.
On the team of lawyers representing

General David Petraeus

, former military commander in the U.S. Army and former director of the Central Intelligence Agency, who was prosecuted for the unauthorized removal and retention of classified information.
On the team of lawyers representing

Brian Nichols

, who escaped from custody in Atlanta and was charged with the murder of a judge, court reporter, sheriff's deputy, and federal agent. The death penalty litigation spanned three years and, following a three-month trial, the team secured multiple life sentences.
Jake has regularly been selected by his peers to be included in The Best Lawyers in America and Super Lawyers, and has been awarded an AV® Preeminent rating from Martindale Hubbell, the highest possible rating for legal ability and ethical standards. He is a former appointed member of the U.S. Commission on Civil Rights, Massachusetts Advisory Committee; previously served on Board of Governors for the NC Advocates for Justice; and currently serves on the Board of Directors for the Center for Death Penalty Litigation. He is also an Advisory Board member for the Winer Family Foundation and the Mountain School of Milton Academy.